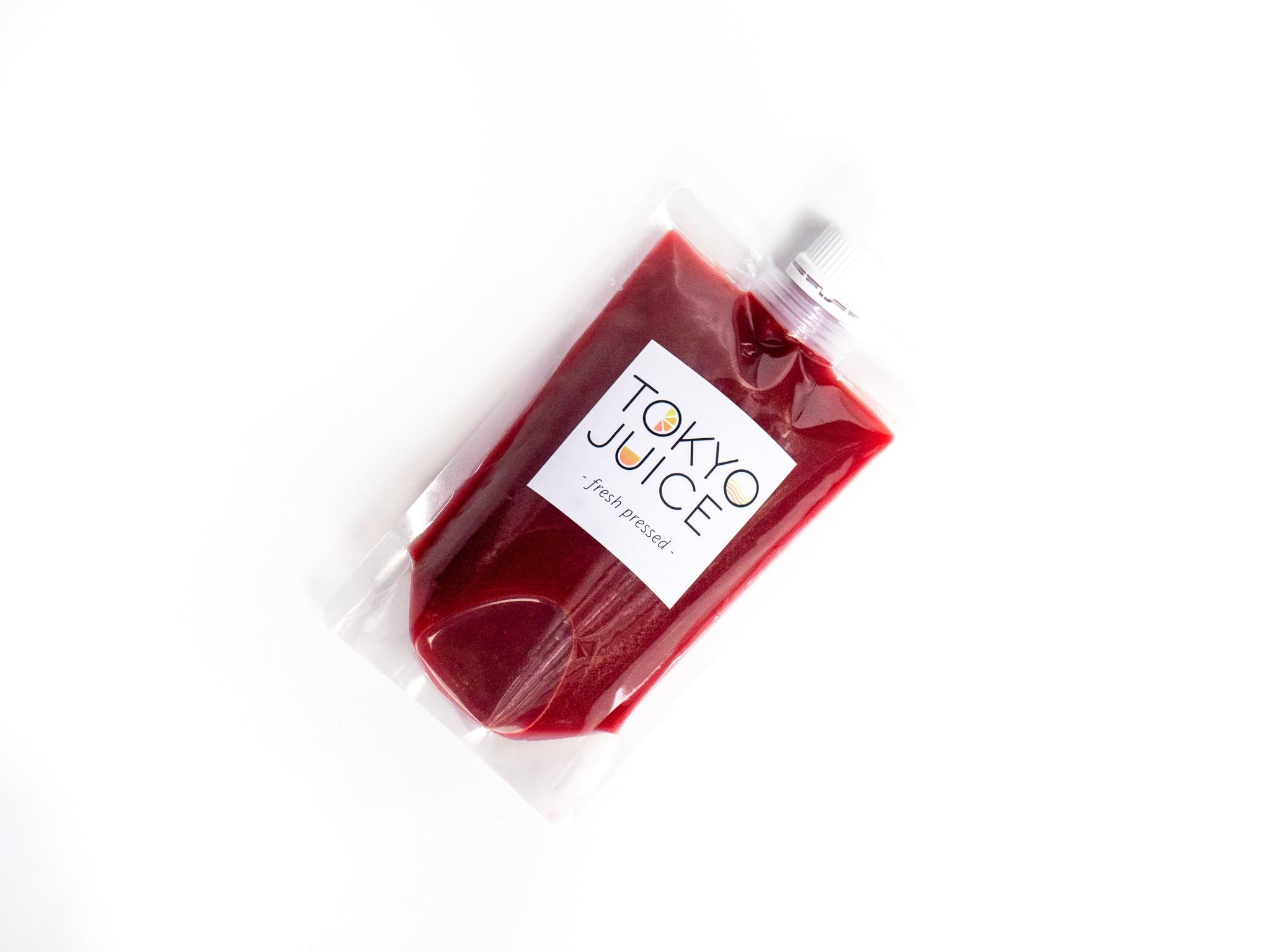 Description

This drink is a fan favorite. The sweetness of apple and earthy flavor of beets, the combination makes this juice easy to drink while packing all the nutrients.

Ingredients: *kale, *spinach, *beet, fuji apple, *lemon 


*ORGANIC

Healthy heart, healthy body, healthy mind.  A great source of fiber with a boost of Vitamin C, help restore your digestive health while eliminating toxins in your system to help fight inflammation and disease while improving your metabolism.

(500ml)

**Delivered in a frozen pouch - thaw in cool water before enjoying.
Delivery & Returns

Delivery & Return Policy

LOCAL BIKE DELIVERY - SCHEDULED (JUICE CLEANSE)

Pricing & Instructions

Delivery Fee - ¥1200 on all order within 7km from Tokyo Juice. If you are outside of our delivery range and would like fresh bottled juice, please contact us for delivery options.
Delivery Time - Monday-Saturday between 8:00am-1:00pm. Subject to change depending on delivery route. If you would like your juice delivered after 1:00pm please contact us - info@tokyojuice.co.jp.
For 2, 3, 5, and 7 day cleanse, fresh juice will delivered everyday with a one time delivery fee.

Bike Delivery Process

We will deliver to the address provided at checkout, within the date and time requested (as long as ordering deadlines are followed). You are responsible for making arrangements to receive your delivery and giving us appropriate instructions. If you are unable to accept the delivery in person, we suggest leaving out a cooler of appropriate size with ice/ice packs. 

Once the delivery has been made, the purchaser accepts all liability. We cannot be held responsible if items are not accepted in-person and left to be visible to the public or to spoil.

 If we are unable to deliver to you, or have to deliver late, for reasons beyond our control (for example: supplier failure, weather conditions, vehicle breakdown, or traffic congestion) we cannot accept liability for any inconvenience or loss this causes and will reschedule the delivery.

Cancellation Policy


 _____________________________________________

 PICKUP IN STORE / TAKEOUT

Instructions

Available FREE of charge at any Tokyo Juice Locations.
Available only during store hours.
Pickups must be scheduled online in advance so that we can ensure your juices are made-to-order.

Cancellation Policy

 ____________________________________________

REGULAR SHIPPING 

Pricing & Instructions

Delivery Fee - ¥600 on all dry goods. (ie almond butter, pantry goods)
Orders which include frozen and dry goods will be ¥1800 shipping fee and shipped separately.
Delivery Area - We currently deliver to Honshu, Kyushu, Shikoku. For Hokkaido and Okinawa shipping please inquire.
Please note that we may not be able to meet your delivery date request due to stock availability or delivery company circumstances.

Cancellation Policy

 ____________________________________________

FROZEN SHIPPING - TAKYUBIN

Pricing & Instructions

Shipping Fee - ¥1200 on all orders.
Orders which includes frozen and dry goods will be ¥1800 shipping fee and shipped separately.
Shipping Area - We currently deliver to Honshu, Kyushu, Shikoku. For Hokkaido and Okinawa deliveries please inquire.
Please note that we may not be able to meet your shipping date request due to stock availability or delivery company circumstances.

We will deliver to the address provided at checkout, within the date and time requested (as long as ordering deadlines are followed). You are responsible for making arrangements to receive your delivery and giving us appropriate instructions.

Cancellation Policy
Bottle Deposit Info

Bottle deposit - you will be refunded ¥100 when you  return a thoroughly cleaned bottle to one of our stores.   Dirty bottles will not be accepted.


•••bottle pickup from delivery man not included